I've loved hating Telecom for the last decade, laughed at the fishing ads that came out just as the XT network fell over for the thousandth time.  And of course for a long time the spunky underdog Vodafone had cool iPhones while grandpa Telecom only had cheap imitations.
This excellent parody pretty much sums up the feeling of the country two years ago:
However Telecom now stocks iPhones, they've revamped their brand and stores, and XT has kept itself out of the news for a few years. Since my Vodafone contract had expired, I thought it might be worth giving Telecom a chance to redeem themselves.  I couldn't have been more surprised with the results.  Sure I'm only one week in, but so far Telecom has outshone Vodafone in every way that matters:
Pricing

Both companies have similar 2GB data + 5 hours calling plans but Telecom was $20 per month cheaper.  I was impressed that there is no penalty for not tying myself to a long term plans, but if you are a plan fan, Telecom will give you an iPhone 4S for $200!

Reception

In my office, where I receive most of my calls, I would usually have 1-2 bars with Vodafone and a dropped call a day.  Now with Telecom I'm getting 3-5 bars depending on the room – that's twice the signal strength with no dropped calls yet.

Speed

I ran a bunch of speed tests on my Vodafone and Telecom accounts, similar times of day, similar weather.  On average download speeds were 90% faster, uploading was 65% faster and pings were 35% faster with Telecom.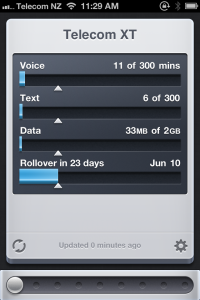 Switching was amazingly simple too, they did all the paperwork on the spot and within a few hours I was using my new Telecom sim. I haven't had a chance to test their call-centre yet but hopefully I don't have to. Both providers hook up to the brilliant Consume app for checking usage so equal grading here.
So as much as I hate to admit it, Telecom have proven to be a much better company to work with than Vodafone.  I might even jump on a 24 month plan one day and get that $200 4S, if I do, does anyone want to buy my old 3GS?
If you've experienced both providers recently I'd love to know how you found the switch.