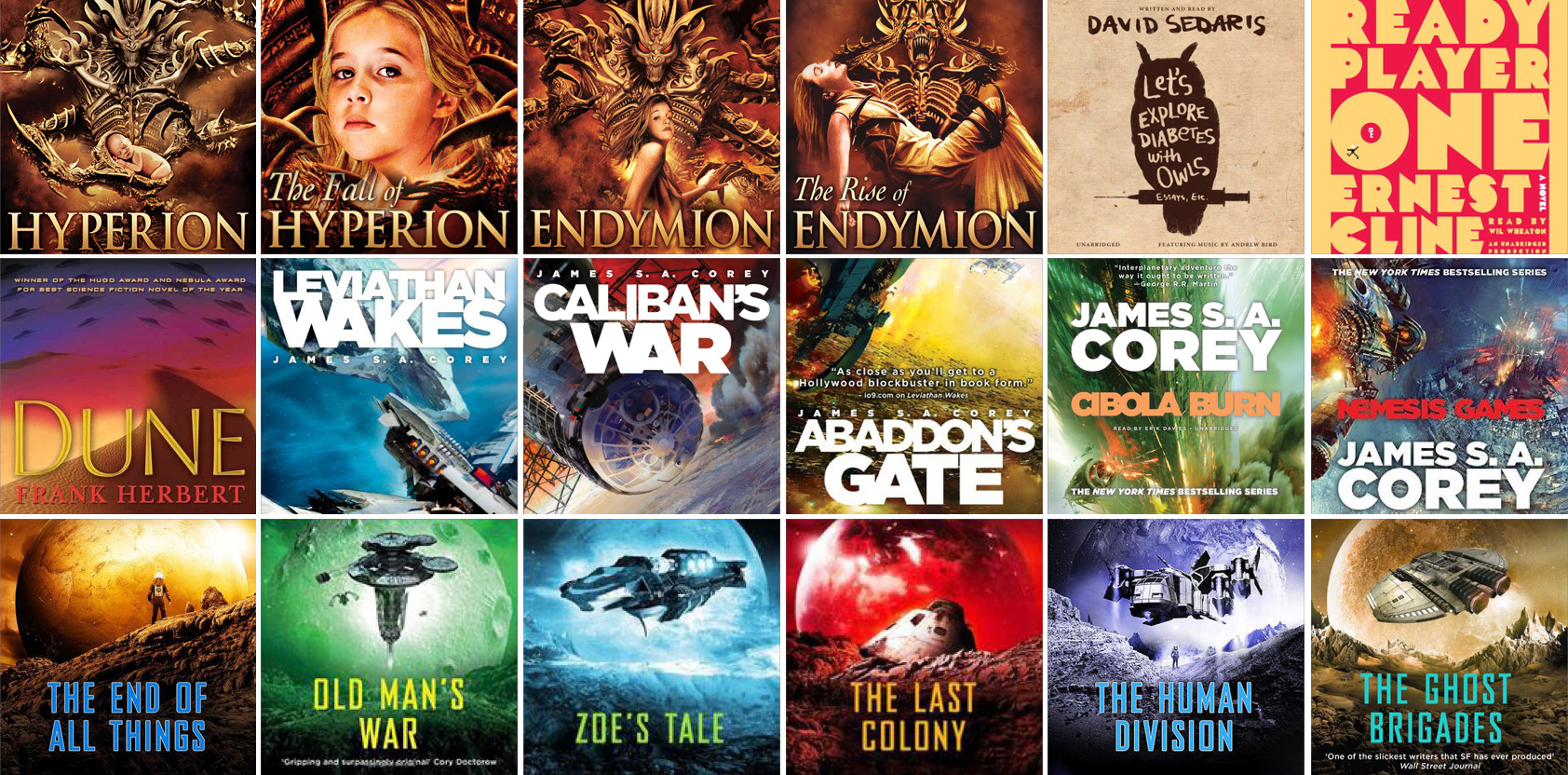 If your kids are reading our books then odds are you're reading some sci-fi books yourself!  With life being so busy I've found that audiobooks are the best way for me to get through my novels, but it drives me crazy how iBooks mangels book covers.  iBooks seems to be designed to fit the square music album covers from iTunes, not traditional rectangular book covers.
This year I took matters into my own hands and came up some alternate versions of popular sci-fi novels which fit iTunes much better.  If you have any of these space operas in your iTunes library use these covers instead, iBooks will love you for it!
If you're not sure how to change audiobook covers in iTunes, we've got you covered.
---
John Scalzi's Old Man's War alternate audiobook covers:
James S.A. Corey's Expanse alternate covers:
Alistair Reynolds' Revelation Space audio-book covers:
Dan Simmons' Hyperion Cantos square audiobook covers:
Peter F Hamilton's Commonwealth Saga and Chronicle of the Fallers audiobook images:
Peter F Hamilton's Void Trilogy audiobook artwork:
Patrick Rothfuss's Kingkiller Chronicle covers… and a bonus Ready Player One cover :)
---
Update, 22 August 2016: I'm really into the Peter F Hamilton books at the moment so I've updated this with the iTunes optimised Void Trilogy audiobook covers. Also, I'm using the iOS10 beta at the moment and it's the square covers work really well ?
Update, 26 October 2016: Added another couple of Peter F Hamilton books and updated all the previous ones so they now all match, looks even better in iTunes now ?
Update, 28 December 2016: Added cover art for the Kingkiller Chronicle by Patrick Rothfuss.
Update, 23 May 2017: Added cover art for the Revelation Space series by Alistair Reynolds.